This is how 123GOLD works online
Step 2 -
Professional advice
We will guide you through the individualization of your wedding rings.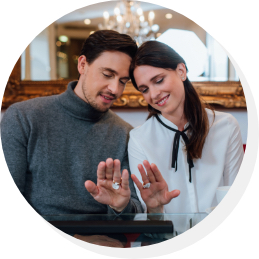 For professional advice on site You can visit a branch of your choice.
Our expert online team will also be happy to help you by phone or email.
Benefit from the many years of experience of our advisors and enjoy professional, authentic and personal advice. We are happy to help you design your unique wedding rings with our configurator and create one-of-a-kind jewelry.
Expertise for you
The best tips on wedding rings.