This is how 123GOLD works online
Step 4 -
Individual sample rings
Order your marriage rings as a trial ring to try out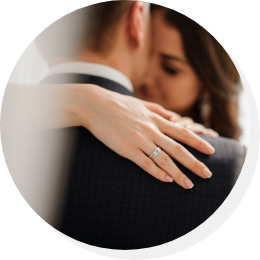 Trial rings provide an exact picture of individually configured wedding rings. These are made in silver for you in advance and look like your rings in terms of shape, width, height and ring size.
To be sure that you get the absolute dream ring and to avoid later changes, we recommend to manufacture and test sample rings.

Especially with complex stone settings such as Brilliant wreath or special designs often changes come with additional costs.
We offer you two variants.
The standard trial ring contains all features relevant to the wearing comfort. such as ring size, profile, width and height of your wedding rings. With the individual sample ring design features such as joints, stone settings or special surfaces can be realized on request and at an additional cost.
This is how the Musterring service works
You already have a selection for yourWedding rings made from our extensive catalog and possible in our Wedding ring configurator adapted to your individual ideas and wishes?

Then in the next step we will be happy to create a sample ring for you.

We need about 14 days to produce your sample rings. Take your time and wear your sample rings in different everyday situations and over a longer period of time, as your fingers change throughout the day due to different influences such as heat, cold, moisture absorption and loss or when you practice certain sports.

We recommend the size in advance with our Ring Size Service to check.
One Standard trial ring Matches your real wedding ring in:
Profile shape, width, height, surface (polished, matted, across matte, oblique matte), ring size and is silver (i.e. does not show colors such as yellow, red, white, gray, etc.).
For this we charge 40,- € per ring.

For production release of your real wedding rings (from 800,- € pair price) and return shipment you will receive a Credit of € 40, - per ring.
Your standard sample rings are therefore Free of charge!
Only the shipping costs for the return are extra.
Within the Netherlands it is € 1.82.
Individual sample rings Further details of your configured wedding rings can be shown, including e.g. joints, stone settings with zirconia, unique engravings or special surfaces. Each of these details comes with an additional charge compared to the standard sample ring.
Unfortunately, these surcharges cannot be credited on the return.
samplering_costs_text_14 = """ When your genuine wedding rings (from € 800 set price) are released for production and the sample rings are returned, you will also receive a of your real wedding rings (from 800,- € pair price) and return also only one Credit of € 40, - per ring.
If crediting is desired, return shipping costs apply here as well.
Within the Netherlands this is € 1.82.
Depending on the design, we recommend to keep your individual sample rings as a souvenir and to use them e.g. on beach vacations, where the risk of loss is increased.
Comments about the Trial Ring Service
Please note that trial rings are made of silver. They will be significantly lighter than your real wedding rings in the desired Alloy. In addition, sample rings do not exhibit colors such as yellow gold. Also multicolored rings unfortunately cannot be displayed.

We need approximately 14 days to produce your sample rings.
Expertise for you
The best tips on wedding rings.